Are you looking for a fast, responsive WordPress landing page for your professional healthcare business? Announcing the leadinjection Medical Landing Page tailored just for you. The Medical Landing Page template is part of the leadinjection theme for WordPress. Use this stylish template for creating a quick, easy landing page for your healthcare provider business. 
View Medical Landing Page Demo
With the Medical Landing Page template, you can enable your clients to easily set appointments online. In addition, you can gather leads for your healthcare practice and build your patient list. Also, you can supply an FAQ to your prospective patients to educate them about the benefits of your practice and to enhance their confidence before they even step foot in your offices.
You can do all this without any programming background or knowledge of coding. It's completely user-friendly.
The Medical Landing Page is built on the robust leadinjection theme. You must install the leadinjection theme before you can utilize the Medical Landing Page template. The entire leadinjection theme is built on HTML5, CSS3 and Bootstrap 3.x. It is carefully constructed with SEO in mind to optimize your website for search engines.
The key feature of leadinjection, and therefore the Medical Landing Page template, is the Lead Modal plugin. In short, the Lead Modal is a customizable pop-up window that appears under circumstances that you specify. For the Medical Landing Page template, the Lead Modal consists of the appointment request box.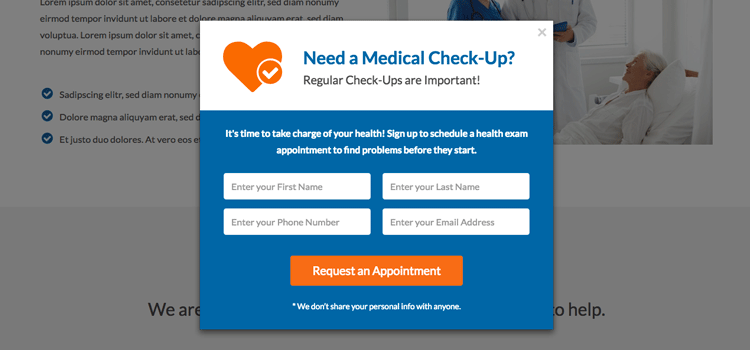 You can customize the Lead Modal to pop up in three different situations:
1. when a visitor clicks on a link or button of your choice
2. after a certain amount of time has passed since the visitor first landed on your page
3. when a customer is just about to leave your website
The result? You can advertise your services and encourage prospective clients to supply their contact information or make an appointment.
Who can use the leadinjection Medical Landing Page?
All health care providers who want to provide a user-friendly method for existing and new clients to make appointments online:
Acupuncturists Allergists Audiologist Children's Healthcare Centers Chiropractors Cosmetic Surgery Centers Dentists Dermatologists Eye Care Centers Family Doctors Fertility Clinics General Practitioners (GPs) Gynecologists Hearing Centers Homeopaths Hospitals Immunologists Massage Therapists Midwives Naturopaths Nurse Practitioners Nutritionists OBGYN Clinics Occupational Therapists Ophthalmologists Optometrists Orthodontists Pain Management Specialists Pediatricians Physical Therapists Physicians Plastic Surgeons Psychiatrists Psychologists Reproductive Centers Sleep Specialists Sports Medicine Physicians Therapists Weight Loss Specialists
The leadinjection Medical Landing Page is fully customizable. Its uncomplicated layout offers an easy-to-understand presentation of your company's name and location, plus staff qualifications and credentials. Insert your own text, photos and client testimonials to present your business the way you want potential clients to see it.
Get leadinjection today and instantly begin customizing the Medical Landing Page template for your business. Click here to get leadinjection now, including the Medical Landing Page for healthcare professionals.
As always, leadinjection provides continuous updates, improvements and new releases for this and all our products.